The GuardianMPS Personal Safety Model is a toolkit that mobile workers and organizations can use to enable a safer working day while working in the field alone.
We define personal safety as:
"An individual's ability to go about their everyday life free from the threat or fear of psychological, emotional or physical harm from others."
The mobile personal safety model is built on 5 key personal safety principles:
The accompanying graphic explains how the 5 principles interact in any given situation of working or experience of threat or violence.
Each principle is represented by a "segment" in the model.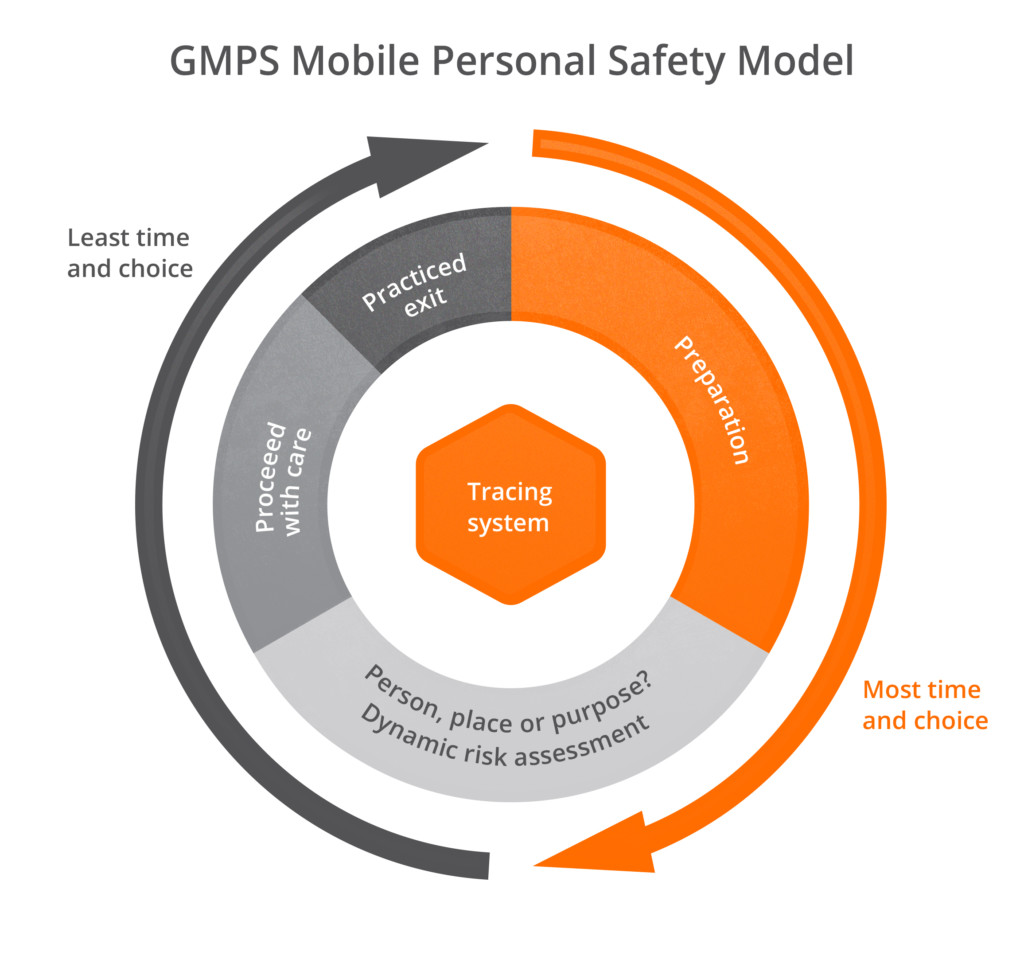 So what does this mean in practice?
What changes as you move through the model from preparation to practiced exit is your available choices, and the time you have to react in a dangerous situation!  That's why each segment of the model is a different size.  In the beginning (preparation) phase you have many more choices to proactively make alternative plans and to implement control measures, if you assess there is a Personal Safety risk.  Once something goes wrong your choices and reaction time are vastly reduced and are much more reactive.
Tracing Systems

: Ensure you can get help, and that someone can locate you, if an incident of violence / emergency occurs

Preparation

: For your tasks / visits.

Dynamic Risk Assessment

: Looks at important assessments to make about the situations you are entering when working alone. These include:

a. The

Person (s)

you are going to be with.

b. The

Place (s)

you will be working / travelling in.

c. The

Purpose

of your Visit / Task.

Proceed with care

: Here communication skills, knowing how to spot the signs of escalating conflict, and how to de-escalate conflict, give great enhancements to your personal safety.

Practiced Exit

: How do you know when something is going wrong? Have you practiced your exit? Can you get help and remove yourself in a prompt and effective manner?
In the next article we will be taking a closer look at each of the model's segments and stages.  We will build on this overview with examples and explanations to give a more thorough understanding of what each segment is all about. Most importantly we will illustrate how it relates to the actual performance of unaccompanied field  and visiting type work and all forms of working alone.